New Home Buyers are Taking Charge of the Current Market
Blog posted On April 13, 2021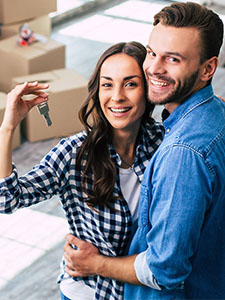 Last year, the number of first-time home buyers hit its lowest level in over 30 years. The coronavirus pandemic likely played a large role in the decline, but outside of that the market had other challenges for first-time buyers. Low inventory, high demand, and rising mortgage rates are all making it harder for new buyers to break into the homeowner's club. Consequently, first-time buyers are having to pave more creative paths to homeownership – paths that may differ from their parents and grandparents.
Modern challenges for first-time buyers
During the 1990s, most people who owned a home were in their early 30s. Today, the average age of homeownership is up to 47-years-old. Young buyers face many unique challenges in the modern market. According to a study by the National Association of REALTORS® (NAR), 58% of buyers between 22 and 40 said the most difficult part of the home buying process was finding the right property. Housing supply is near record lows right now. Without enough homes for sale, new home buyers have very limited options. Plus, within that limited window of homes for sale, even fewer are affordable entry-level properties.
The second hardest step for buyers aged 22 to 40 was understanding the purchasing process and steps. Understanding the buying process can be difficult at first, which is why using a REALTOR® and loan officer can be greatly beneficial. Nearly 90% of young buyers said that using a real estate agent helped them understand the different steps in the process.
Another modern hurdle that young buyers face is saving for the down payment. As home prices continue to appreciate, down payments continue growing as well. The median sales price was $336,200 in February – up 14% from last year. So, unless you planned on purchasing your home with a USDA Loan or VA Loan (both requiring 0% down), then the lowest down payment you would be able to make is $10,086 (3%*).
Home buying solutions they're trying
In order to break into the modern market, first-time buyers are doing things a little bit different than they did 30 years ago. "The traditional time to buy was when people got married and had kids and wanted to settle in one place, be in good school districts and have access to their job," says Carol Galante, faculty director of Berkeley's Terner Center for Housing Innovation. Now, fewer buyers are waiting to purchase a home until after marriage and more people are having children later on. In the 1980s, 72% of first-time home buyers were married. By 2020, that percentage had dropped to a little over 50%. Today, unmarried couples who buy a home together is much more common than it was back then. Unmarried couples account for 1 in 6 of all purchases today, while in the 1980s, only 1 in 25 unmarried couples bought a home.
The financial benefits of this could help you save for a down payment quicker and buy your home sooner. "Financially it makes more sense for people who want to cohabitate to buy," says Kathleen Martin, a real estate agent with Speicher Group of Long & Foster Real Estate. "The taboo of 'we have to be married to buy' is totally gone. Couples are finding rent makes no sense anymore. If their mortgage is going to be lower than the rent would be, why bother?"
Another way that buyers are saving is by taking advantage of the current work from home benefits. According to Zillow, buying isn't an option for nearly 2 million renters due to their high-price locations. However, as more people are able to work from home, you not only can save on commuting costs, but perhaps look outside of the main hub where your work is located. Generally, the further away from the city you look, the cheaper the cost of living will get. "The rise of remote work is really opening up a lot more options for people," says Jeff Tucker, senior economist at Zillow. "Whether it is moving to a different metro area or to a more affordable distant suburb or exurb in their own metro area. If they don't actually need to get downtown five days a week by 9 a.m. that could open up a lot of things in terms of homeownership."
Though the market is competitive for many buyers right now, there are many ways you can prepare better, save faster, and make your offer stronger. Getting preapproved is one way to strengthen your offer and you can start by clicking the "Get Started" button above. For other low down payment mortgage options or other tips on how to make a stronger offer, contact us today.
*Conventional Payment example: If you choose a $250,000, 30 year loan at a fixed rate of 2.85% (APR 3.00%), with a $150/month mortgage insurance payment, and an LTV of 97%, you would make 360 payments of $1,204.00 Payment stated does not include taxes and insurance, which will result in a higher payment.
Sources: REALTOR® Magazine, Money, Money