Market Update: Rates Rise; Case-Shiller Home Price Index, New Home Sales, Pending Home Sales
Blog posted On February 21, 2022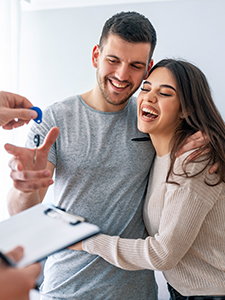 Mortgage rates trended higher last week as the momentum from the previous week continued. The main cause a couple weeks ago was the consumer price index, which revealed that inflation levels are at a 40-year high level. Consequently, more experts believe that the Federal Reserve will hike the benchmark rate in March.
This week, there are a few important housing reports scheduled for release. The Case-Shiller home price index is scheduled for release on Tuesday, while new home sales are scheduled for release on Thursday, and pending home sales are scheduled for release Friday.
The S&P Case-Shiller home price index tracks changes in the value of homes involved in two or more sales transactions across 20 major metropolitan areas throughout the country. Though the data lags by a month, it is still used to gauge home price appreciation trends. In November, the 20-city index rose 1.2% month-over-month and 18.3% year-over-year, showing continued price deceleration. The month before, prices rose 18.5% year-over-year.
The new home sales report tracks the sales of newly constructed homes and accounts for about 10% of total residential real estate transactions. In December, new home sales rose 11.9% month-over-month to reach a seasonally adjusted annual rate of 811,000. The total number of homes sold in 2021 was approximately 762,000. The number of new homes for sale at the end of December was 403,000, which represents a 6-month supply.
The pending home sales index tracks changes in the number of homes that are under contract but not yet closed. In December, pending home sales were down 3.8% month-over-month. "Pending home sales faded toward the end of 2021, as a diminished housing supply offered consumers very few options," said Lawrence Yun, NAR's chief economist.
Also scheduled for release this week is the FHFA home price index, the weekly mortgage application survey, the weekly jobless claims survey, the GDP estimate for quarter four of 2021, the PCE price index, personal income, and consumer spending.
Luckily, the number of homes on the market could pick up as we approach peak home buying season this spring. If you're looking to take advantage of the spring market, the best way to prepare is to get preapproved. Mortgage preapprovals are key to competing for a home in a busy market.
Sources: Bloomberg, Census.gov, Mortgage News Daily, National Association of REALTORS (NAR), SP Global