Market Forecast: Mortgage Applications, Consumer Price Index, and Job Openings
Blog posted On March 08, 2021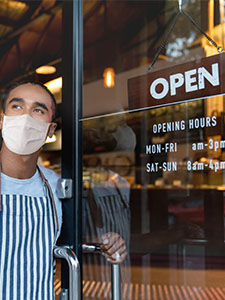 Mortgage rates dropped slightly last week and continue to stay in a historically low range. This week, the weekly mortgage application survey will be released on Wednesday morning, followed by the consumer price index later that day. The Job Openings and Labor Turnover Survey (JOLTS) will be released by the Labor Department on Thursday.
For the week ending 2/26, mortgage application submissions increased a composite 0.5% with refinance submissions rising 0.1% and purchase submissions climbing 2%, week-over-week. Year-over-year, the refinance index was up 7% and the purchase index was up 5%. "The housing market is entering the busy spring buying season with strong demand," said Joel Kan, associate vice president of economic and industry forecasting at the Mortgage Bankers Association (MBA). "Purchase applications increased, with a rise in government applications - likely first-time buyers - pulling down the average loan size for the first time in six weeks."
In January, the consumer price index climbed at the fastest pace in five months – up 0.3%. The increase in overall prices was largely due to a 7.4% increase in gas prices. In comparison, the cost of food only edged up 0.1%. Overall, the rate of inflation over the past year remained unchanged at 1.4%. Prior to the pandemic, inflation was up to 2.3%. "Though inflation remained moderate at the start of year, the opening up of the economy, the possibility of a bigger stimulus package making it through Congress, and shortages of inputs all point to warmer inflation in coming months," said Jennifer Lee, senior economist of BMO Capital Markets.
In December, job openings were little changed at 6.6 million, up 0.1% according to the Labor Department. Hires decreased to 5.5 million (down to 3.9%), while total separations remained relatively unchanged at 5.5 million. Among the separations, the number of layoffs decreased by 243,000, down to 1.81 million or 1.3%. Lydia Boussour, lead U.S. economist at Oxford Economics, said, "the labor market outlook is slowly brightening. We foresee increased vaccinations, elevated savings and robust business activity contributing to a 6.6 million jobs rebound in 2021."
As more vaccinations are distributed throughout 2021 and more people return to work, more sectors in the economy will gain strength. As the economy recovers, mortgage rates will rise. But right now, they are still low historically, and buying or refinancing your home while rates are low could save you thousands of dollars on interest. Get started on your mortgage application now by clicking the "Get Started" button above.
Sources: MarketWatch, MarketWatch, MBA, Mortgage News Daily, Reuters