5 Myths About Buying a Home
Blog posted On May 19, 2021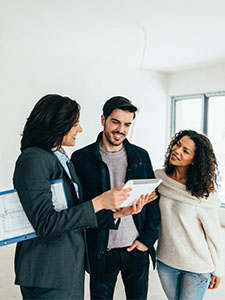 Buying a home is a big step. Renting allows you to live more commitment-free, and when you think of buying, you might be worried about what it entails. For many people, they envision a large debt, strict mortgage requirements, and settling down. But not everything you hear about buying a home is true. To help you transition from renting to buying, here are five common myths about buying a home.
Buying a home means larger debt
When you take out a loan to buy a home, you'll be required to pay it back. However, you're not paying the $300,000 (or however much your home costs) all at once. Typically, your payments will be spread out over 15 to 30 years, depending on your loan's terms. The longer the repayment period, the lower the monthly costs. For example, if you take out a $300,000 loan and are paying it off over 15 years at a 3.2% interest rate, your monthly payment would be $2,101. If you extended the repayment period to 30 years, your monthly payment would be $1,297. Therefore, your monthly debt-to-income ratio (DTI) would likely look similar to your DTI with rent payments. According to Rent.com, the average rent for a three-bedroom apartment was $2,017 in Q2 of 2020. So, you actually might save money every month by purchasing a home. Plus, each payment would increase your home's equity and help you build wealth.
A 20% down payment is required
Making a 20%* down payment used to be the goal for many home buyers. Today, the majority of modern buyers put down less. The National Association of REALTORS® (NAR) reported that over half of all non-cash buyers put down less than 20%* on their home in October 2020. Almost 75% of all first-time buyers made a down payment smaller than 20%*. "While making a down payment of less than 20%* does lead to higher interest rates and larger monthly payments, if it allows you to buy a home sooner, you do get the benefit of starting to build equity in your home more quickly," says Nadia Aziz of Opendoor.
In other words, a 20%* down payment is not required to buy a home. In fact, there are several low down payment mortgage options ranging from 0% to 3.5%* such as the VA Loan (0% down), USDA Loan (0% down), FHA Loan (as low as 3.5%* down), and certain conventional loans (as low as 3%* down). Additionally, using down payment gifting can help you increase your down payment savings, buy more of your home upfront, qualify for a lower mortgage rate, purchase your home sooner, and possibly eliminate the need for costly mortgage insurance.
You need an excellent credit score
It's a good idea to try and boost your credit score before applying for a mortgage. This could help you qualify for lower rates and maybe a bigger loan. However, just because your credit isn't perfect doesn't mean you're out of luck. "Credit score and history play a significant role in a buyer's ability to obtain a home loan, but it doesn't mean a buyer needs squeaky-clean credit. There are many loan solutions for buyers who have a lower than the ideal credit score," says Natalie Klinefelter, broker/owner of the Legacy Real Estate Company in San Diego, CA.
Like our down payment options, we have many options for less-than-perfect credit scores. The government-backed FHA Loan typically is more flexible with credit scores than conventional loans. While conventional loans typically require credit scores of at least 620, FHA Loans can allow for a minimum credit score of 500 – depending on the circumstance.
It's a bad time to buy
There's never a perfect time to buy. If you buy when interest rates are low and home inventory is low, you might have a higher purchase price. If you wait until there's a larger inventory of homes so that prices go down, you run the risk of higher interest rates. "The famous saying in real estate is 'I don't have a crystal ball,' meaning no one can predict exactly where the market will be at a given time. If a buyer stays within their means and has a financial contingency plan in place if the market adjusts over time, it is the right time to buy," says Klinefelter.
When you buy a home, you'll be stuck
You might think that buying a home will require you to live there for 30 years while you pay off your mortgage. If you decide you want to travel or move somewhere else, you could consider renting your home, though you will need to check with your lender to make sure that your loan permits it.
If you don't want renters living in your house, then you likely will be able to sell your home within a year or two – depending on the market. In a high demand, low inventory market, you could probably sell your home within weeks or months. "There is always a way out of a real estate asset; knowing how and when to exit is the key," says Klinefelter.
Transitioning from renting to buying can be an intimidating process, but you will likely realize the process was worth it in the long run. If you have any questions or concerns about the home buying process, let us know. We would be happy to talk to you, walk you through the steps, and address any concerns you might have.
*Payment example: If you choose a $250,000, 30 year loan at a fixed rate of 2.85% (APR 3.00%), with a $150/month mortgage insurance payment, and an LTV of 97%, you would make 360 payments of $1,204.00 Payment stated does not include taxes and insurance, which will result in a higher payment.