3 Steps that Could Help Speed Up Your Refinance
Blog posted On June 10, 2021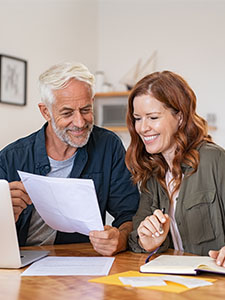 When mortgage rates trend lower, people want to act fast. Home buyers will rush to find a home, while homeowners will rush to refinance. Then they'll come to their lenders wanting to close on their loans immediately. Direct lenders, like us, typically have the ability to close quicker than others. However, part of the speed of our closings depends on you. The more prepared, responsive, and organized you are, the quicker you can close on your loan.
Refinancing is a popular when rates are low because it can help lower your monthly mortgage payments, cancel costly mortgage insurance, and pay off your loan sooner. According to Freddie Mac, homeowners who refinanced in 2020 saved more than $2,800 annually. Whether you're eager to get started on your refinance or waiting for the right time, there are several ways you can prepare for a quicker close.
Set a financial goal
Understanding what your refinancing goals are can make for a much more efficient process. Maybe you want to lower your interest rate, switch from an adjustable-rate mortgage (ARM) to a fixed-rate mortgage (FRM), change from a 30-year loan to a 15-year loan, cancel your mortgage insurance, or get cash out. There are several refinancing options that can help you achieve different goals.
Here is a brief overview of the most common options:
Lower your interest rate – Lowering your interest rate can reduce your monthly mortgage payments and help you save thousands over the life of your loan. However, make sure that you can lower it enough so that the closing costs won't outweigh the savings benefit.

Switch from to a fixed-rate mortgage – ARMs typically will start at a lower rate than FRMs, which can be useful if you're locking in when rates are higher. Over time, your ARM rate will likely increase. If you switch to a FRM when rates are low, you won't have to worry about them rising with the market and can have more predictable monthly payments.

Cancel mortgage insurance – Mortgage insurance is required for conventional loans with a down payment smaller than 20% and most government loans regardless of down payment size. This can add hundreds of dollars to your mortgage payments every year. If you've built enough equity, you might be able to cancel your mortgage insurance when you refinance.

Get cash out – With a cash-out refinance you can exchange the equity you've built in your home for cash. In general, you should have at least 20% equity in your home before a cash out refinance. Then, you can pay off your existing loan, take out a new, larger mortgage, and receive the difference in cash.
Determine how much equity you have
As mentioned, certain refinancing options require a minimum amount of equity in the home. Plus, the more equity you have, the lower interest rate and fees you could secure. To calculate your home equity, you need to determine your home's market value. This isn't necessarily your purchase price. Since you purchased the home, its value could have gone up or down depending on the local market and any improvements you've made to the home. Though the most accurate way to determine your home's value is by getting an appraisal, there are several other online tools that can give you a rough estimate as well. One is the FHFA Home Price Index Calculator, which only calculates values based on state, purchase price, purchase quarter, and valuation quarter. Another is Zillow's Zestimate tool, which gives you a rough valuation based on your exact address (and even can help you calculate your equity). Again, the most accurate way to find out your home's market value is by getting an appraisal. Then you can subtract your current mortgage balance from its market value. This is your how much you have in equity. To determine your equity percentage, divide that number by your home's market value and multiply by 100. For example, if your home is worth $500,000 and your remaining mortgage balance is $200,000, your equity is $300,000. Then, divide $300,000 by $500,000 to get 0.60, multiply it by 100 to get 60%, which would be how much equity you have, well over the 20% threshold.
Gather paperwork
Having the right paperwork prepared can help any loan process – whether purchasing or refinancing – go much smoother. Here's what you can start gathering before you refinance:
Pay stubs over the past 30 days

W-2 forms from past two years

Federal tax returns from past two years

Information about your current home loan

Assets/bank statements

Property taxes and home insurance on current home

Identity verification (IDs, SSN, etc)

Profit and loss statements, 1099s, client invoices (if self-employed)
Your lender will likely need more information as you go through the process, but make sure you ask us early on about any other documentation you might need.
Once you've accomplished these three tasks, you should be in a better position for your mortgage refinance. If you have any questions along the way, feel free to ask us. We're here to guide you step-by-step and help make your refinance as seamless as possible!
Sources: Money.com